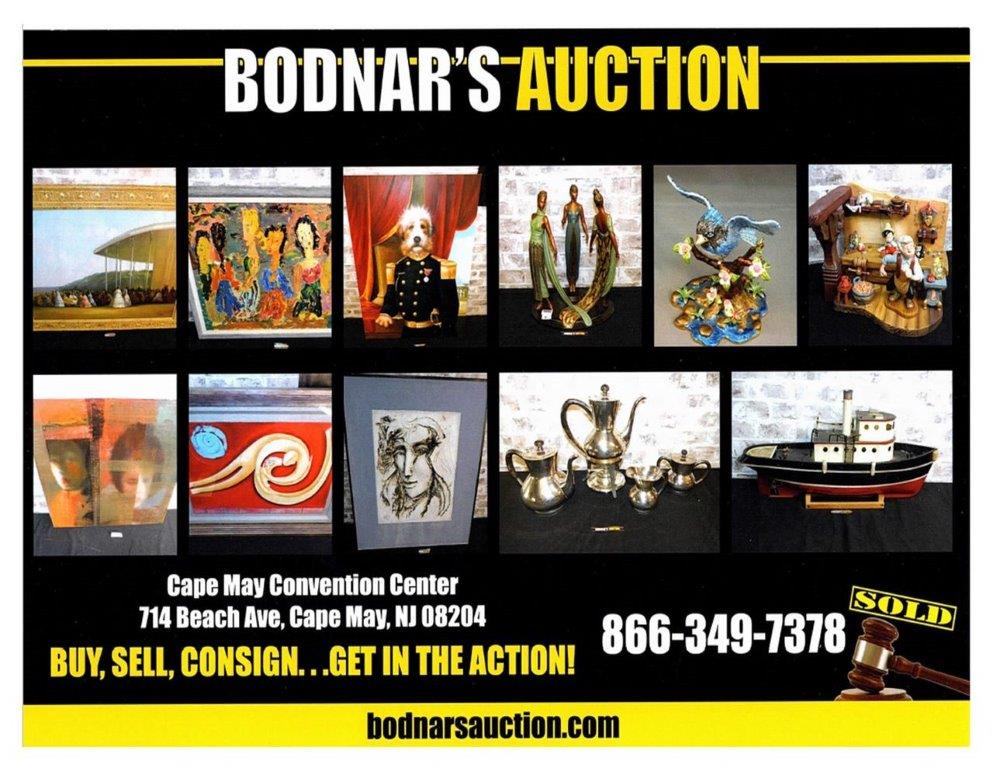 Bodnar's Auction had their first annual auction at the Jersey Shore with a fantastic response from the community back in 2019! Unfortunately, due to the pandemic, they had to shut down their live auction events and their 2020 event had to be cancelled. In late spring 2021, the City of Cape May decided to reopen their Convention Hall, and the team at Bodnar's Auction was off and running to get this first live sale in over 17 months ready.
With the Ocean as a backdrop behind the auctioneer, 300 antiques & collectibles will cross the block on Saturday September 11, 2021, at 11:00 am. Joe Bodnar, president of Bodnar's Auctions, said "We will be practicing social distancing and will adhere to all guidelines to run a safe event for all who attend. Masks will be required for all unvaccinated buyers. The seating will spread out over the 20,000 square foot facility to allow a safe distance for happy bidders to feel safe when bidding. Hand-sanitizer will be everywhere. We are changing our whole format to make the buyers experience a positive one."
In the past bidders would crowd around tables fighting for the chance to see the item being sold, but the new format will be a sit-down sale to accommodate social distancing. Bodnar's will not deliver the items to the winning bidder until after payment has been made to keep personal contact down to a minimum. You can also bid remotely on your smart phone from on the beach or anywhere in the world. The auction will be broadcasted live on several platforms including Liveauctioneers, Invaluable, AuctionZip and on Bodnar's own platform.
This sale will feature several local estates packed with antiques & collectibles. One of the featured collections is an art collection that took a lifetime to accumulate and belonged to a fantastically interesting woman in Manhattan. It has been appraised for over $200,000.00! Many of the artists in this collection can be found in galleries on both the east and west coasts. This collection of art features artists like Vigen Sogomonyan, Carlos Torres, Sylviane Canini, Philip Bueller, Alfred Rogoway, Orlando Agudelo-Botero, Kerry Warner, and Earl Hamilton, to name a few. What's nice about this collection is that Bodnar's has all the paperwork for each painting, and most have the original bill of sales. Bodnar shared "It is very rare that a collection of this extent comes up for auction with no reserves. All will sell to the highest bidder. Now is the time to invest in art. Everything in this collection is of great quality."
Besides the art, Bodnar's will also be selling a great collection of Jay Strongwater figurines, frames, and more. Jay Strongwater collectors know this collection was originally thousands of dollars and all have original paperwork and boxes. Also, up for bidding are 4 rare recast Erte bronzes that will be offered from a Metuchen, NJ estate, all with proper marking and were limited production runs. Besides the Erte bronzes, there is a collection of fantastic bronze statues in the sale. Fine jewelry and decorative art will also be offered. Hand-carved screens, lighting, quilts, ship models, Cape May books, figurines, sterling silver, Waterford, Lladro, clocks, and a nice Disney collection, too!
Bodnar always tries to "give back" to charity at his events, and this sale will feature several gift baskets benefiting the Cape May, NJ Volunteer Fire Department in Honor of 9/11. Gift Baskets will feature local items from Cape May as well as vintage fireman collectibles such as Christopher Radko 9/11 special ornaments and more!
Bodnar said, "The fact that 9/11 was the sale date and it's the 20th Anniversary, I felt it was fitting to have the charity part of the auction go to the local volunteer fire department." Besides the gift baskets there will be other ways to donate that day in-person.
The auction will take place on Saturday, September 11, 2021, at 11:00 am at the Cape May Convention Hall, 714 Beach Ave, Cape May, NJ 08204. You can preview the items in person on Friday September 10th from 5:00 pm - 7:00 pm and again on Saturday at 9:30 am.
Can't make it to the live auction? Don't worry! You can bid online on several platforms including Liveauctioneers, Invaluable, AuctionZip and on the platform on Bodnar's website. Bodnar's Auction offers in-house shipping on most of the lots in the sale and can ship anywhere in the world. For more details visit www.bodnarsauction.com or call 866-349-7378.