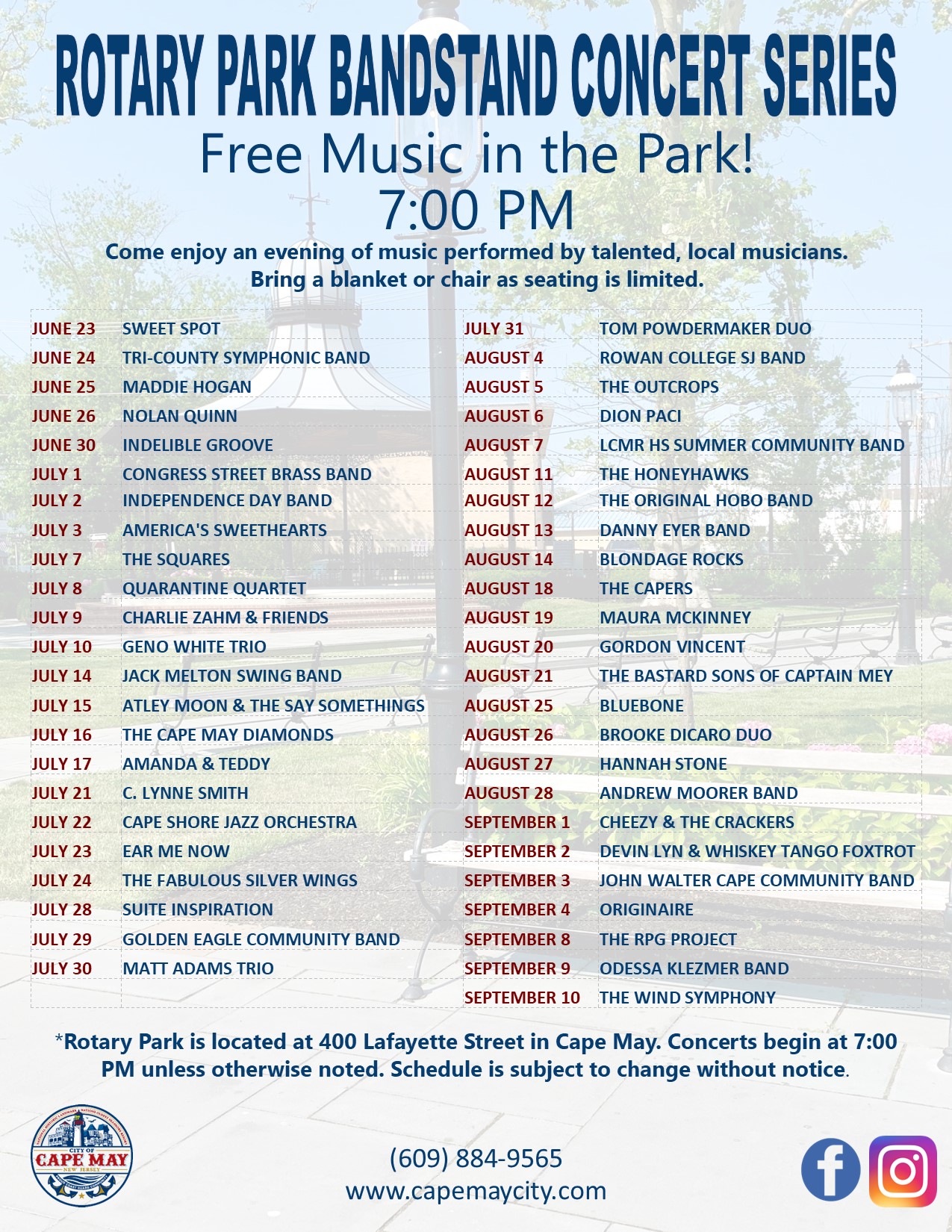 The City of Cape May is excited to announce the 2023 summer lineup for "Music in the Park," free evening outdoor concerts in Cape May. Forty-seven concerts will be held at Rotary Park, located at 400 Lafayette St. in downtown Cape May. The City has been offering free music in the park for nearly five decades.
This year's lineup has something for every musical taste and introduces new, modern flair to the town! Each concert offers excellent entertainment in a family-friendly atmosphere. This year, we are starting off the season with the sweet sounds of Sweet Spot. Highlighting our 2023 lineup for Music in the Park are fan favorites including Dion Paci, America's Sweethearts, and Suite Inspiration. The City welcomes Independence Day Band to celebrate the Holiday weekend this year! Other examples of this year's lineup include country and bluegrass from The Fabulous Silver Wings, the harmonious sounds of Originaire, and the always-entertaining Cheezy & The Crackers. The series also features from popular local talent like Maddie Hogan and the infamous Cape May Diamonds. 
Music in the Park runs June 23 through September 10. Concerts are held every Friday, Saturday, Sunday, and Monday evening at 7 PM. Patrons are welcome to bring a beach chair or blanket to comfortably enjoy the entertainment. All concerts are rain or shine unless otherwise noted on the City's Facebook page and in Rotary Park.
For additional information, visit www.capemaycity.com or call 609-884-9565.  Like us on Facebook at www.facebook.com/capemaycity and follow us on Instagram at https://www.instagram.com/capemaycity/.
2023 Free Music in the Park Lineup


| | |
| --- | --- |
| JUNE 23 | Sweet Spot |
| JUNE 24 | Tri-County Symphonic Band |
| JUNE 25 | Maddie Hogan |
| JUNE 26 | Nolan Quinn |
| JUNE 30 | Indelible Groove |
| JULY 1 | Congress Street Brass Band |
| JULY 2 | Independence Day Band |
| JULY 3 | America's Sweethearts |
| JULY 7 | The Squares |
| JULY 8 | Quarantine Quartet |
| JULY 9 | Charlie Zahm & Friends |
| JULY 10 | Geno White Trio |
| JULY 14 | Jack Melton Swing Band |
| JULY 15 | Atley Moon & The Say Somethings |
| JULY 16 | The Cape May Diamonds |
| JULY 17 | Amanda & Teddy |
| JULY 21 | C. Lynne Smith |
| JULY 22 | Cape Shore Jazz Orchestra |
| JULY 23 | Ear Me Now |
| JULY 24 | The Fabulous Silver Wings |
| JULY 28 | Suite Inspiration |
| JULY 29 | Golden Eagle Community Band |
| JULY 30 | Matt Adams Trio |
| JULY 31 | Tom Powdermaker Duo |
| AUGUST 4 | Rowan College SJ Band |
| AUGUST 5 | The Outcrops |
| AUGUST 6 | Dion Paci |
| AUGUST 7 | LCMR HS Summer Community Band |
| AUGUST 11 | The Honeyhawks |
| AUGUST 12 | The Original Hobo Band |
| AUGUST 13 | Danny Eyer Band |
| AUGUST 14 | Blondage Rocks |
| AUGUST 18 | The Capers |
| AUGUST 19 | Maura McKinney |
| AUGUST 20 | Gordon Vincent |
| AUGUST 21 | The Bastard Sons of Captain Mey |
| AUGUST 25 | Bluebone |
| AUGUST 26 | Brooke DiCaro Duo |
| AUGUST 27 | Hannah Stone |
| AUGUST 28 | Andrew Moorer Band |
| SEPTEMBER 1 | Cheezy & The Crackers |
| SEPTEMBER 2 | Devin Lyn & Whiskey Tango Foxtrot |
| SEPTEMBER 3 | The John Walter Cape Comumunity Band |
| SEPTEMBER 4 | Originaire |
| SEPTEMBER 8 | The RPG Project |
| SEPTEMBER 9 | Odessa Klezmer Band |
| SEPTEMBER 10 | The Wind Symphony |