Convention Hall Overview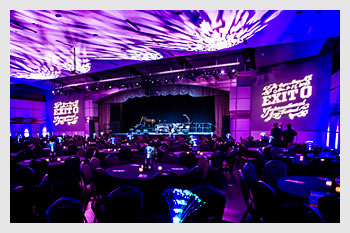 MISSION: The mission of Cape May Convention Hall is to serve our community, delight our guests, and enhance the reputation of the greater Cape May area. We fulfill this mission by offering programming that showcases nature, culture, and the arts; by hosting celebrations that mark meaningful life events; and by providing a cutting-edge venue for trade and commerce activities, conventions, and meetings.
THE FACILITY: Cape May Convention Hall is a state-of-the-art facility located in one of the Mid-Atlantic region's most desirable destinations. Situated directly on the beach, the 20,000 square-foot facility features two event halls, a catering kitchen, a meeting room, a wraparound deck, and a multi-purpose atrium with an unparalleled view of the beach and the ocean. Cape May is an upscale resort so there is always a variety of accommodations available, and the pedestrian- and cyclist-friendly layout of the town makes it an attractive alternative to busy urban areas.
ABOUT CAPE MAY: Known as "The Nation's Oldest Seashore Resort," the City of Cape May has enjoyed a longstanding reputation as a desired destination for vacationers. With over 600 Victorian-era structures in use, the entire City of Cape May has been declared a National Historic Landmark by the United States Department of the Interior. These homes, hotels, B&B's, and other accommodation properties comprise one of the largest existing collections of late 19th-century architecture in the country. Cape May boasts a 10.5-month economy highlighting all areas of tourism that encompasses the wonders of the natural eco-systems, the romance of the Victorian era, pristine protected beaches, exciting recreational activities, unique shopping and dining opportunities, and events that are as varied and delightful as the seasons themselves.